Statistics 2020
Because of the pandemic we have had a huge rise in referrals. The chart below shows first referrals only for the full calendar year. (First referrals are clients that aren't known to us and are being referred for the first time).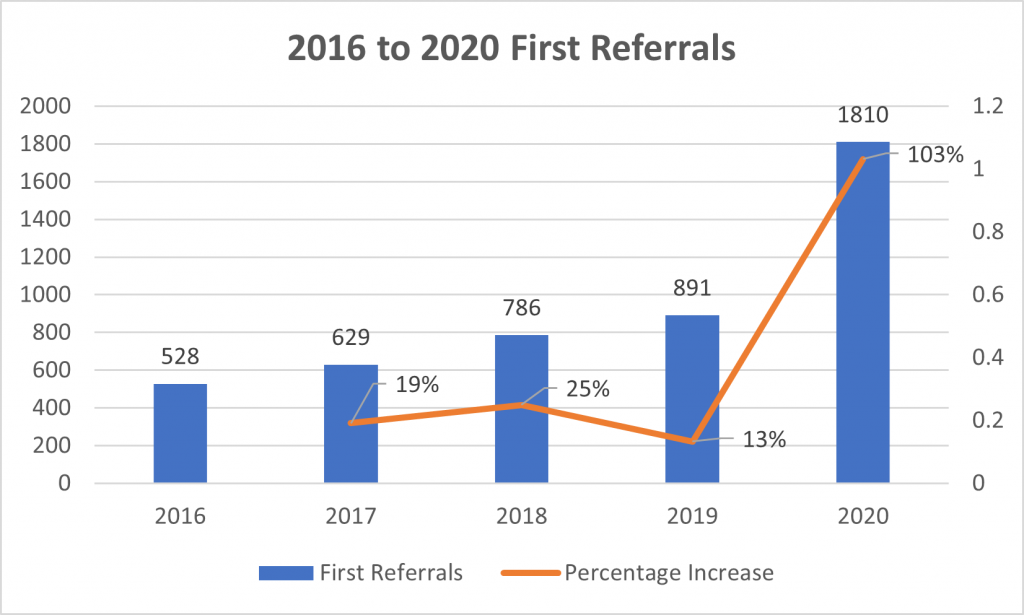 Covid19 Stats
We've taken these stats from the period of 16th March to 8th August and compared them across 5 years. We chose this period to show the effect of the Covid19 pandemic on those in need in the borough.
A huge 93% rise in referrals from 2019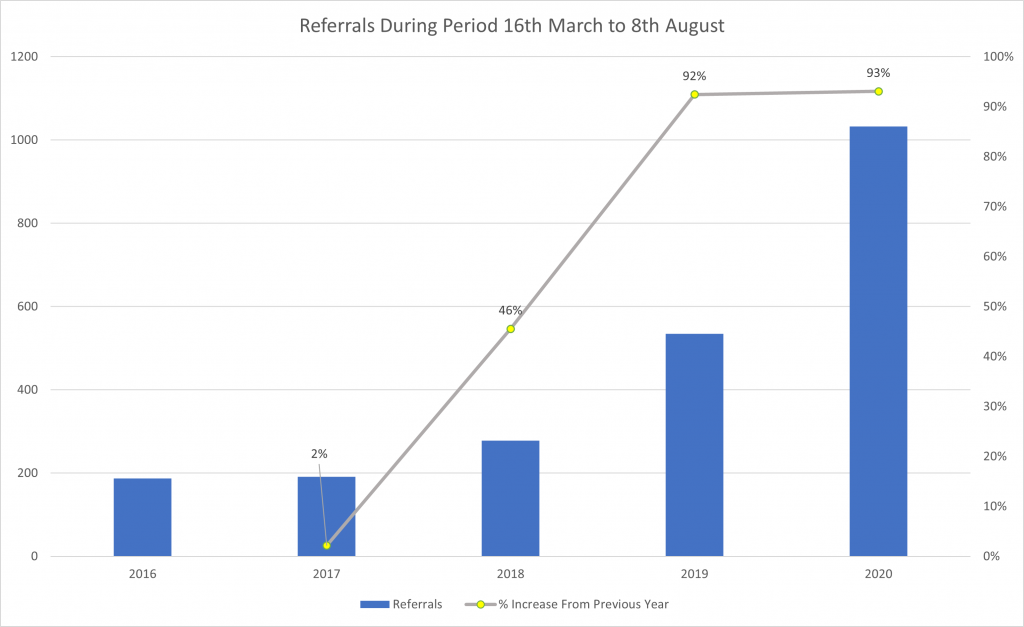 Number of people referred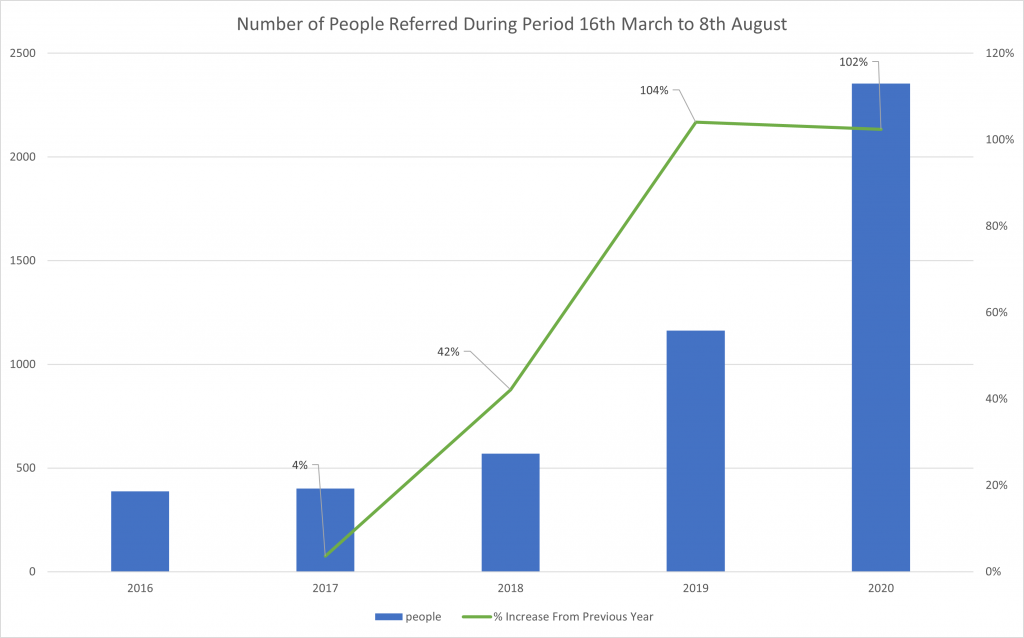 Meals Provided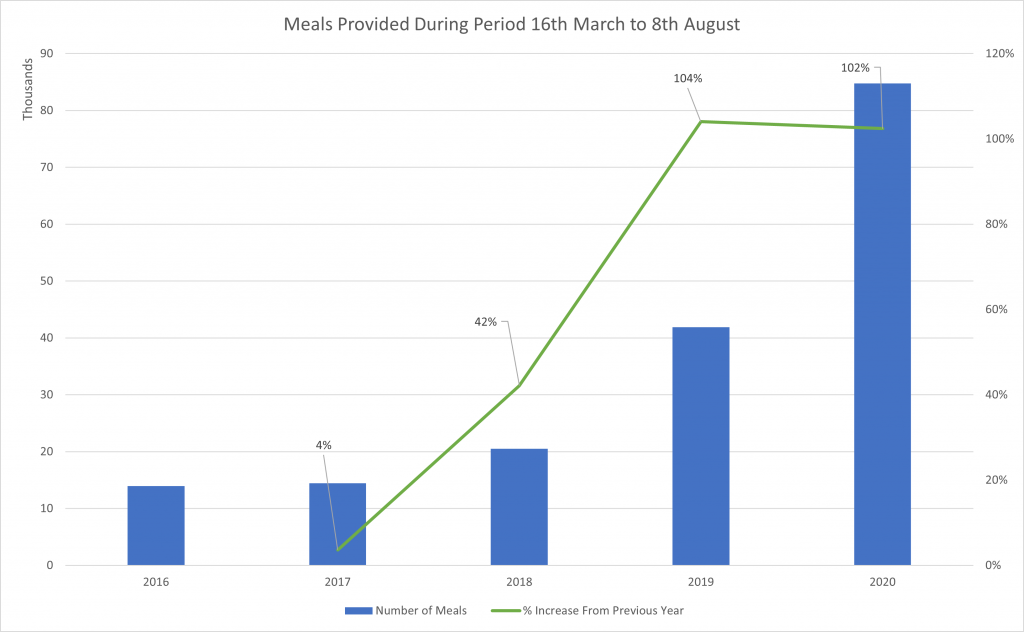 Reason for referral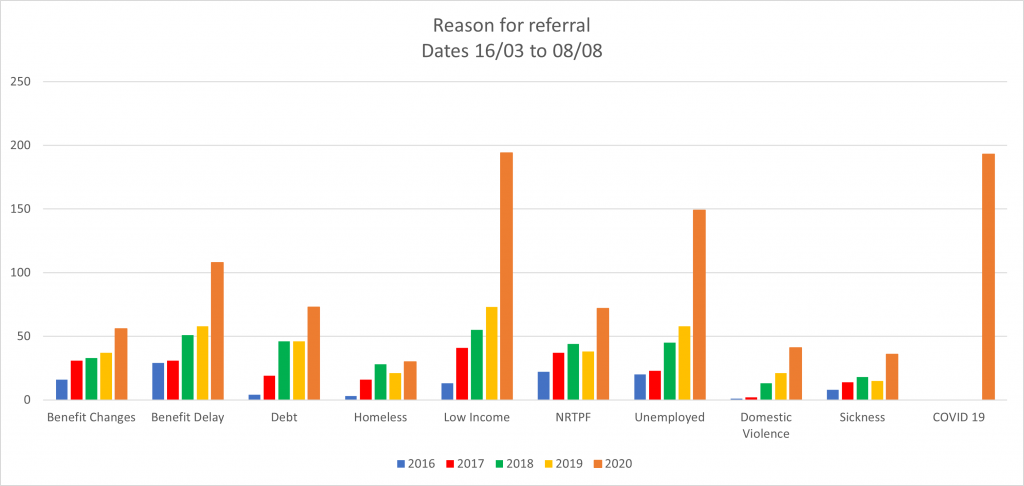 Age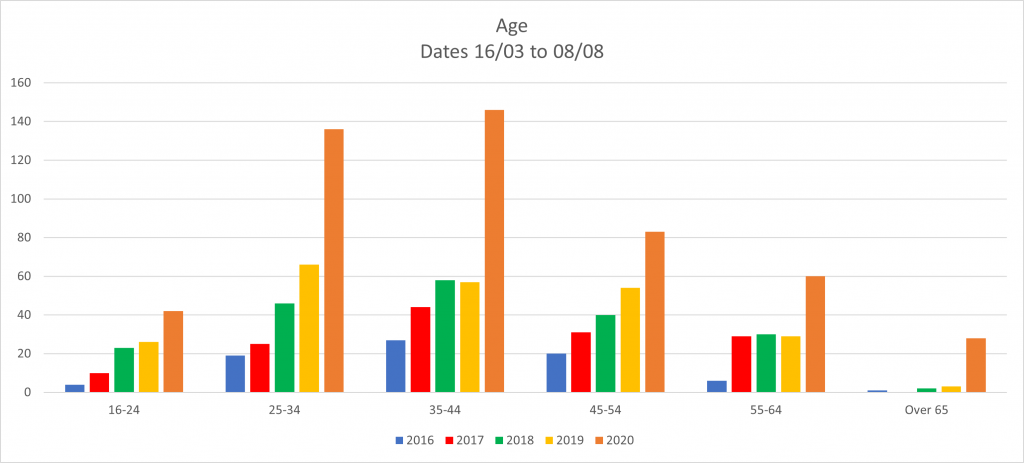 Statistics 2019
Another very busy year for Eat or Heat. 2019 has seen us expand to three food banks in Waltham Forest. Our referrals continue to rise year on year. Benefit delays, low income and unemployed are the largest rises in the reason for being referred.
The chart below shows first referrals only. (First referrals are clients that aren't known to us and are being referred for the first time).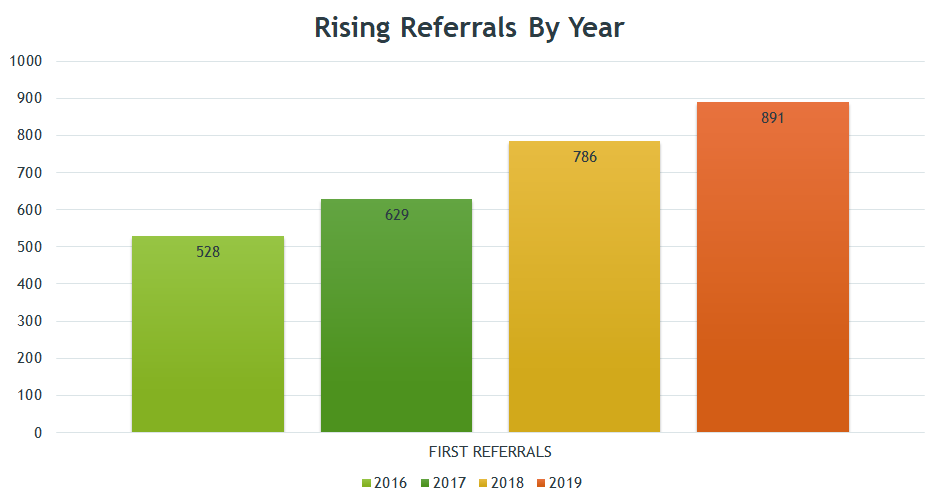 There has been another large increase in "Benefit Delay" being the reason for using the food bank. More of our clients tell us their full time job doesn't pay enough to cover the bills. This is reflected in the rise in "Low Income" referrals.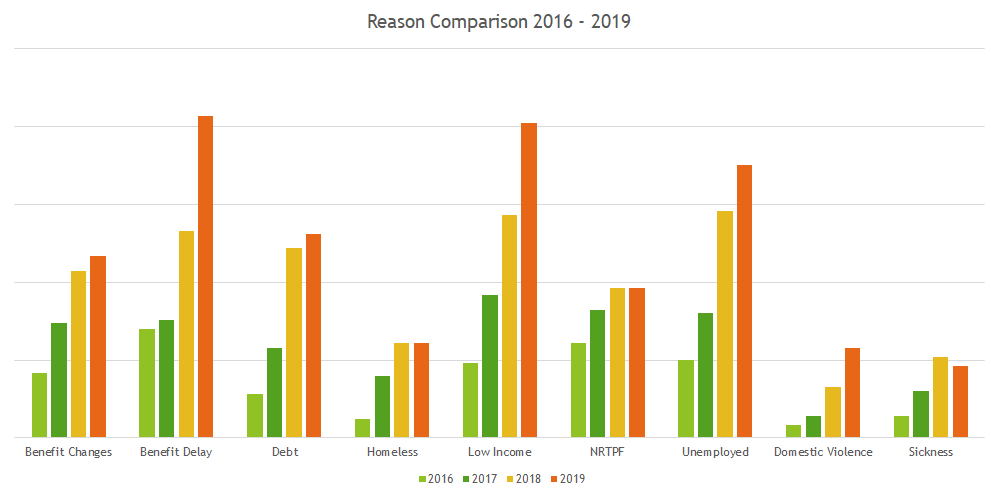 The DWP instructed their staff to stop filling in external referral forms. We believe this was to hide the chaos and payment delays that universal credit has caused. The chart below shows how referrals from the DWP have dropped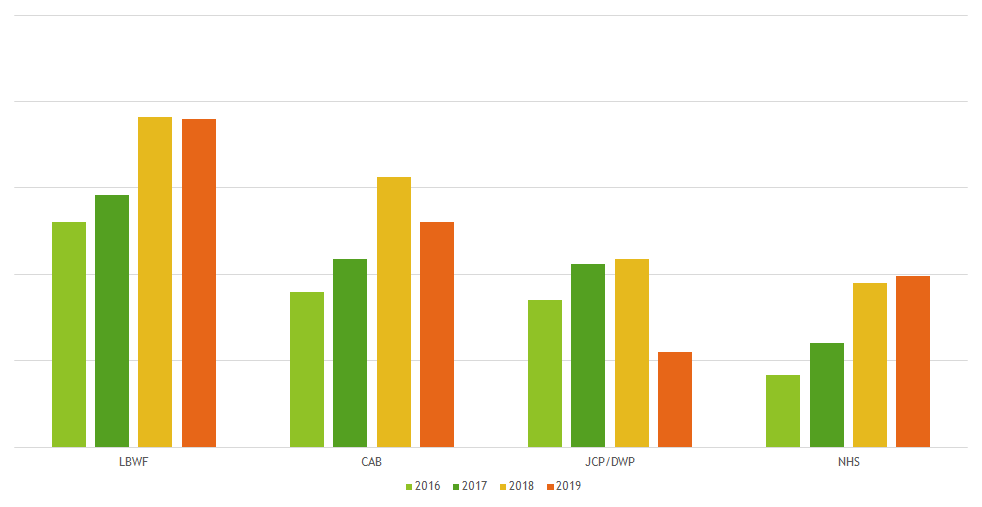 Second Quarter Statistics 2019
13/09/2019
First referrals have stayed the same in this quarter compared to last year.
Although first referrals have not increased in this quarter, (they are exactly the same), this still means 156 new referrals were made to the food bank. This figure does not include second or third referrals.
For some reason the Job Centre (Department of Work & Pensions) have made the decision that they can't refer to us anymore, using our referral form. According to our sources, the staff have been told they cannot fill in an external referral form. If they do not fill in our form, this deprives us of the data about why the referral is needed. Being cynical, we can't help but think that they are trying to hide the Universal Credit delays. You can see below the increase in the first quarter was 313% for Benefit Delays.
Reason For Referral
Age
100% Increase Benefit Changes
14% Increase Benefit Delay
33% Decrease Homeless
57% Increase Low Income
40% Increase Unemployed
8% Increase 16 to 24 years old
59% Increase 25 to 34 years old
76% Increase 45 to 54 years old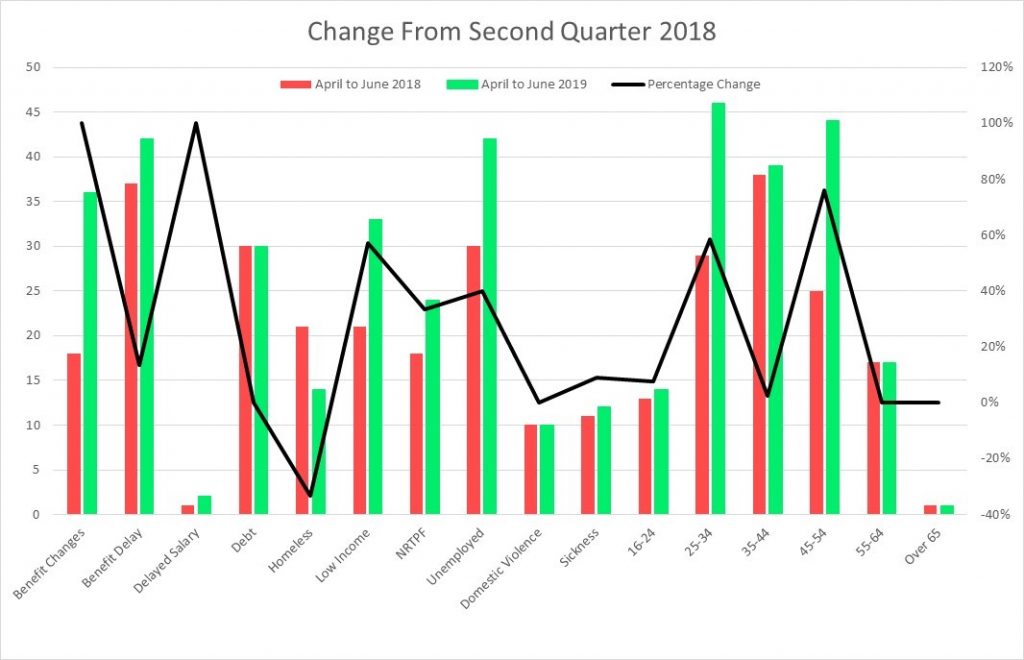 First Quarter Statistics 2019
26/07/2019
45% Increase in first referrals
Reason for referral
Age
313% Increase Benefit Delays
171% Increase Domestic Violence
86% Increase Benefit Changes
100% Increase Homeless
58% Increase Debt
380% Increase 16 to 24 years old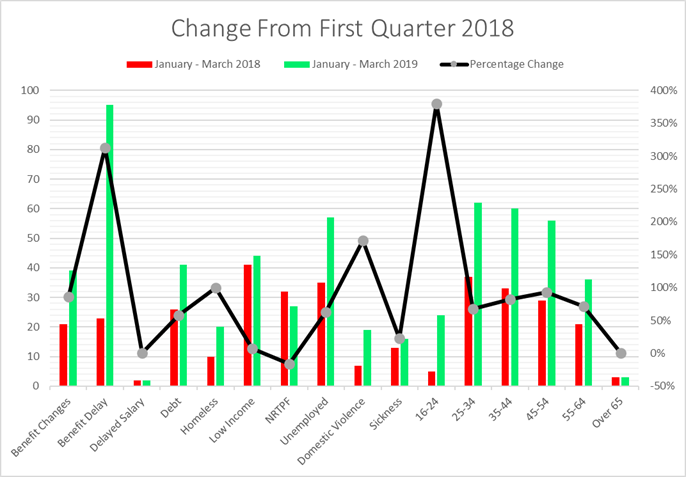 Since Eat or Heat started in November 2011, we have seen a steady rise in our referrals.

There have been reports recently, notably by the Joseph Rowntree foundation, that show poverty in the UK is on the rise.
Child poverty has been rising since 2011/12

4.1 million children are living in poverty, a rise of 500,000 in the last five years

Four million workers are living in poverty –a rise of more than half a million over five years

In-work poverty has been rising even faster than employment, driven almost entirely by increasing poverty among working parents.

Joseph Rowntree Foundation December 2018
Here are our latest statistics that show how the demand for our service is rising.
The statistics are for the year 1st April 2017 to 31st March 2018, unless otherwise stated.

Approximately 8790 meals were handed out, plus fourth referrals and emergency bags.
There were over 600 first referrals last year, this equates to approximately 5500 meals.
Over 2700 meals on second referrals
590 meals on third referrals
A food bag for one adult costs approximately £8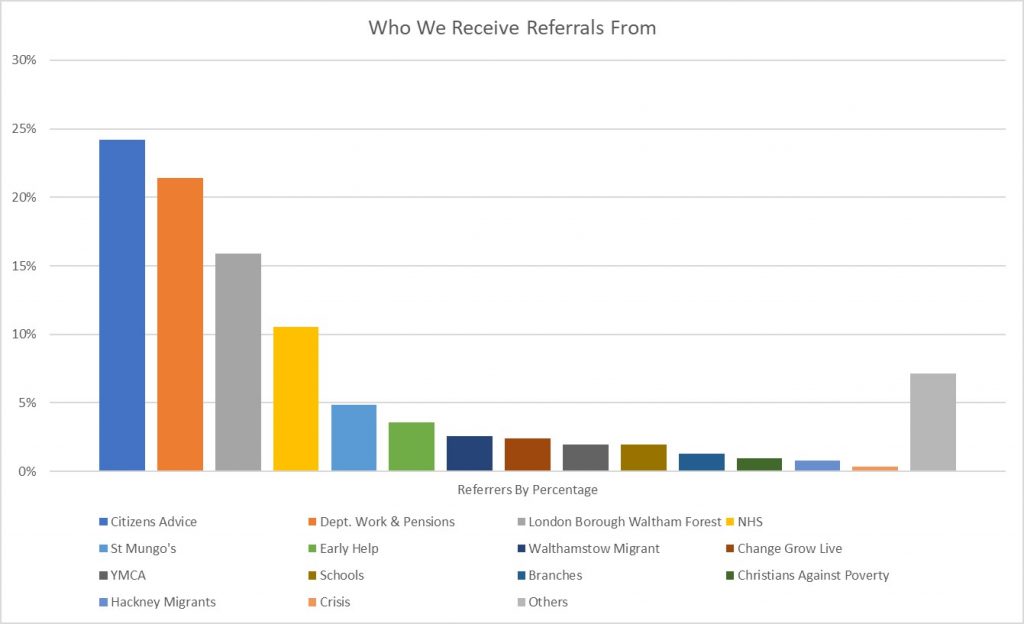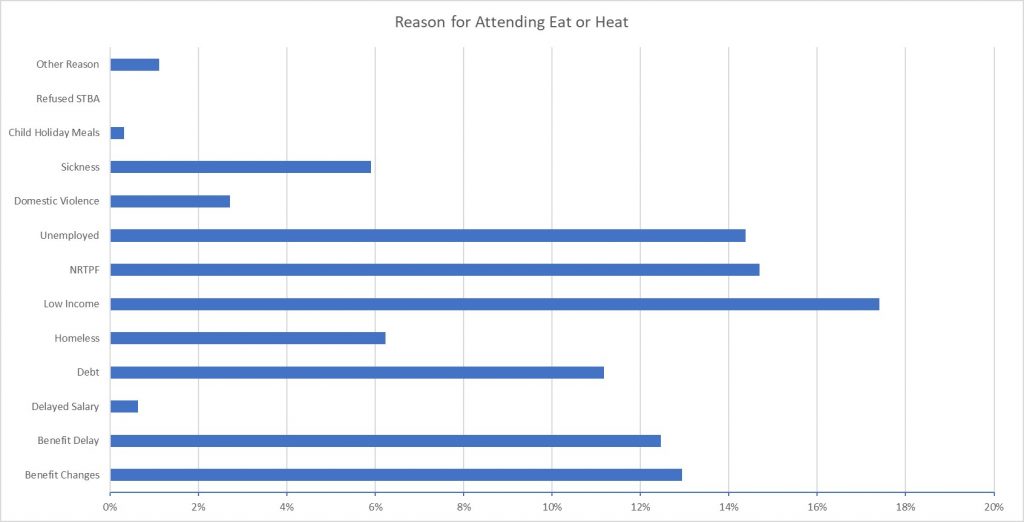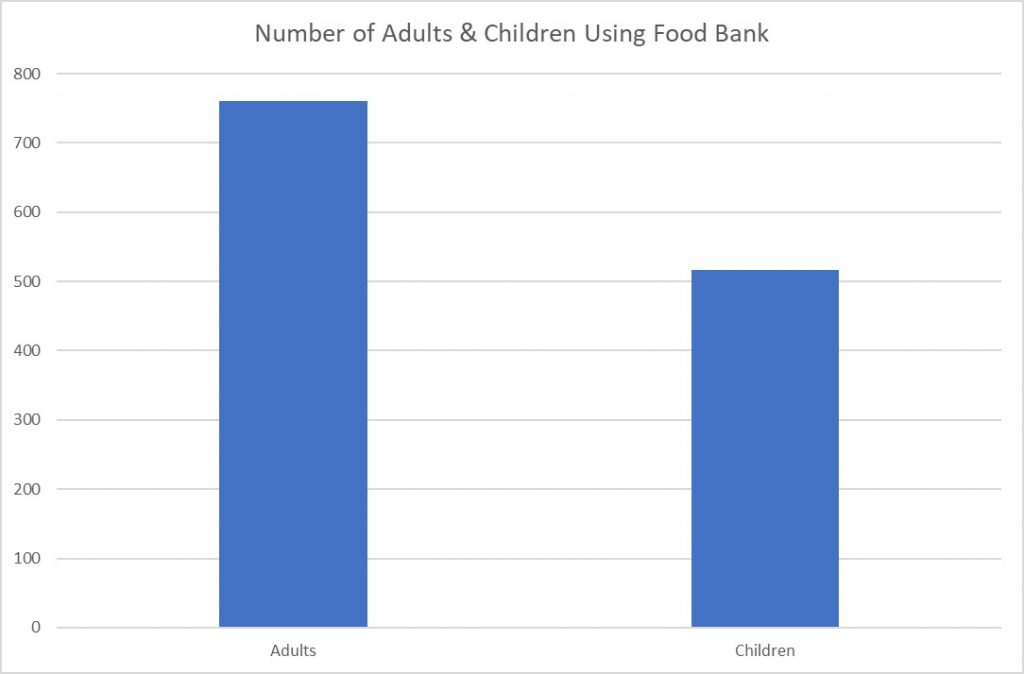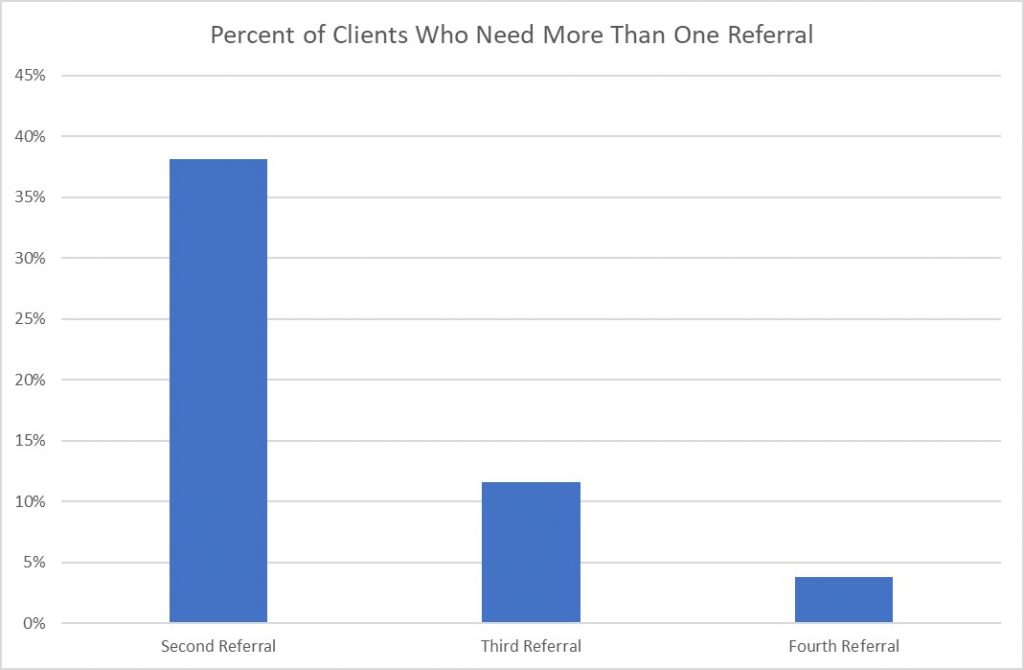 On behalf of our clients, we thank all our supporters, referrers, donors and volunteers for the amazing response to our regular pleas for help. You are all amazing!
Life in this country should not be Eat or Heat